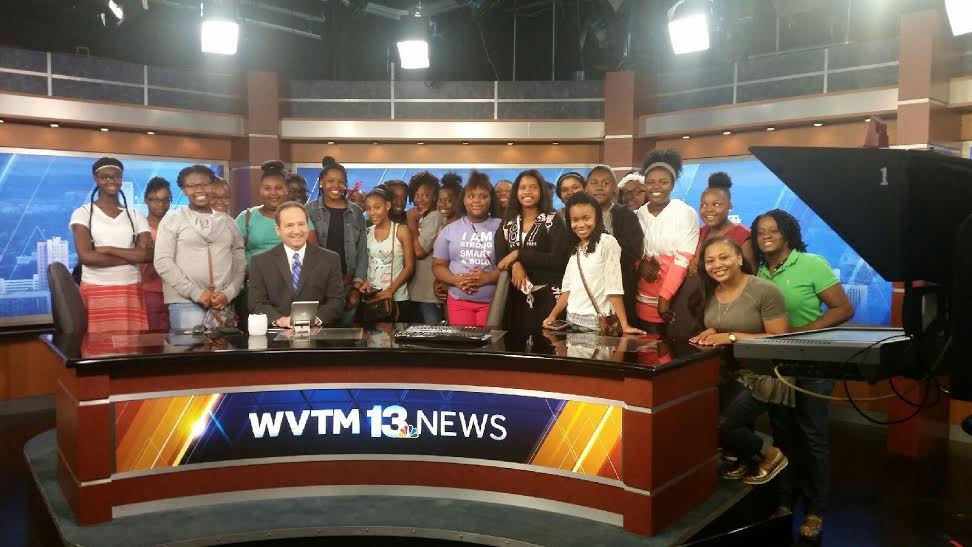 On Monday, June 20th, our 8th and 9th grade girls got the unique opportunity to tour Birmingham's WVTM- 13 news station. They were able to see "behind the scenes" of what goes on before, during and after a news broadcast. The girls were also introduced to a wide range of possible media career opportunities, including camera persons, directors, producers, news anchors, reporters and more. To top the day off, they were able to watch the midday news live in studio with anchor/reporter, Mr. Jeff Eliasoph.
When asked about the tour, all the girls commented that they enjoyed it.
Amiya, 14, said, "I liked how they put the news together and how it was sent to the anchor. I really liked seeing how interested everyone was in doing their job."
Kamari, 13, comments, "My favorite part was watching the midday broadcast with Mr. Eliasoph. I learned about the lights and what broadcasters have to do during the broadcast. I also got the chance to see the person who controls when the commercials come on."
Nekayah, 12, liked learning about green screens. "I learned that they can switch the green screen from the weather to another picture. I also learned that a teleprompter is used so that the anchor knows what to say."
Geriel, 12, said her favorite thing was learning about the technology behind the scenes. "I learned how much technology goes into doing the news and how they get their information."
Special thanks to Ms. Cynthia Isom for coordinating our tour and the entire WVTM-13 staff for allowing our girls to have this wonderful experience!