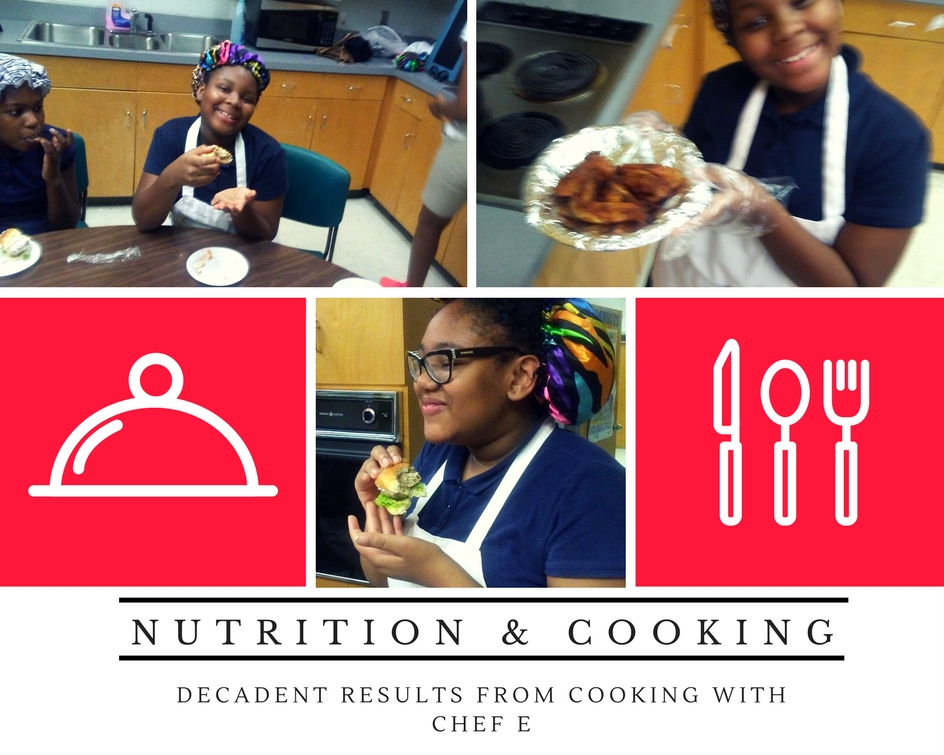 When the girls go to their Nutrition class they undergo a full kitchen experience. Chef E makes a point to work with the girls so that they know how to cook, the nutritional elements of everything they cook, and safety sanitation in the kitchen. No girl can begin cooking without understanding safety sanitation. Chef E instructs the girls with real world experience. Each girl must wash her hands, wear gloves and hair nets to keep the food sanitary. In addition, the girls must learn to keep the kitchen environment clean. If they cannot do this they cannot cook.
Once the girls learn and show their understanding of safety sanitation they begin to learn about nutrition. Understanding the nutritional elements behind what you are eating is very important. Chef E really leads the girls to understand both the good and bad nutritional elements behind everyday foods as well as their favorite foods.
When it comes to cooking Chef E puts together a healthy meal plan and after going over the nutritional elements involved she begins to teach the girls how to make the meal. This is a real hands on experience where the girls are involved 100% in putting together the food. Girls assist in meal prep, where they gather needed materials and measure out recipe components. Then the girls get to take turns cooking and observing the cooking process. By the end of the class the girls are able to eat what they made, this is by far the girl's favorite part of class! Before the day is over the girls must clean up. This is an important element to teach the girls to finish what they have started. All the girls involved with cooking assist with washing and putting away dishes.
So far this month the girls have made healthy turkey meatballs, healthy turkey sliders, and fried chicken (a special treat for good behavior)!