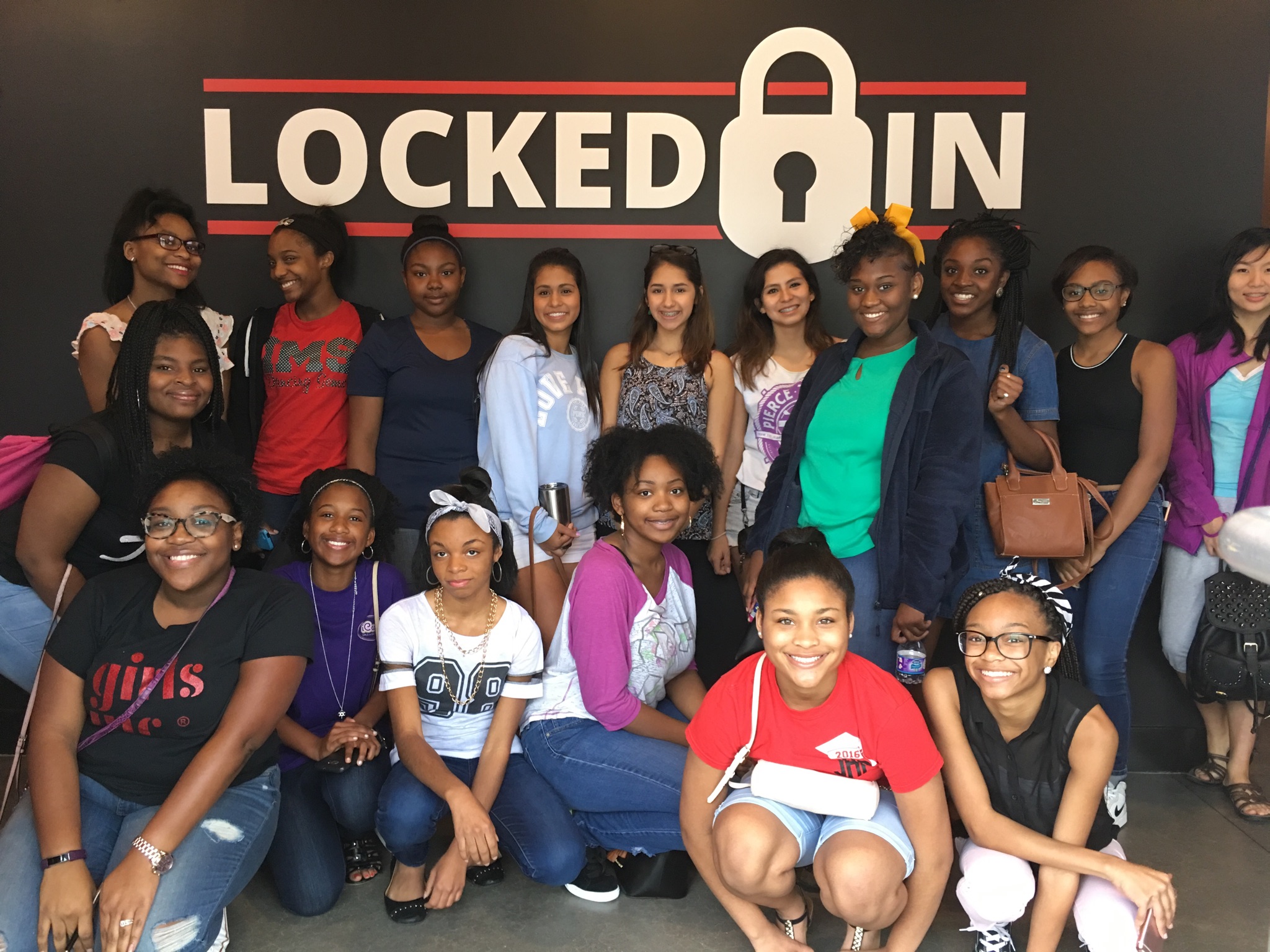 Have you heard about our Teen Leadership Program? It is a great way for high school girls in Birmingham and the surrounding areas to bond while they prepare for their future. The focus of the program is college and career prep, but they do that and so much more. With the help of our Junior League of Birmingham volunteers and sponsors we are able to offer high school girls an impactful program that they love to attend.
The Teen Leadership Program meets one Saturday a month, typically in the morning but exact times do vary. September held the first activity for this school year. The girls were able to work on their Team Building Skills through (attempting) to complete Locked In. If you are unfamiliar with Locked In, it is an Escape Game where a group of people are essentially locked into a room and in order to get out they must complete a puzzle. Players are given only an hour to escape, putting a time crunch to the mystery. Sadly none of our groups were able to escape their rooms but a few did come close. While none of the girls succeeded in completing the game they did succeed in growing and developing their Team Building Skills.
Future activity topics include: Self-Esteem, College Prep, Teen Dating Violence, Financial Literacy, and many more. In addition to the monthly meetings the girls participate in community service and go on college trips (local and out-of-state).
Want to join? It is not too late, there are still spots available! To join you must be in the 9th, 10th, 11th, or 12th grade. Plus if you are a 9th grade girl attending a Birmingham City School, your program fees will be paid for by GEAR UP, the Gaining Early Awareness and Readiness for Undergraduate Programs initiative.
The registration form can be found by clicking on the following link: https://girlsinccentral-alorg.presencehost.net/what-we-do/registration-form.html. If you need more information please contact our Teen Leadership Coordinator Crystalyn York at 205.403.5244 or cyork@girlsinccentral-al.org.