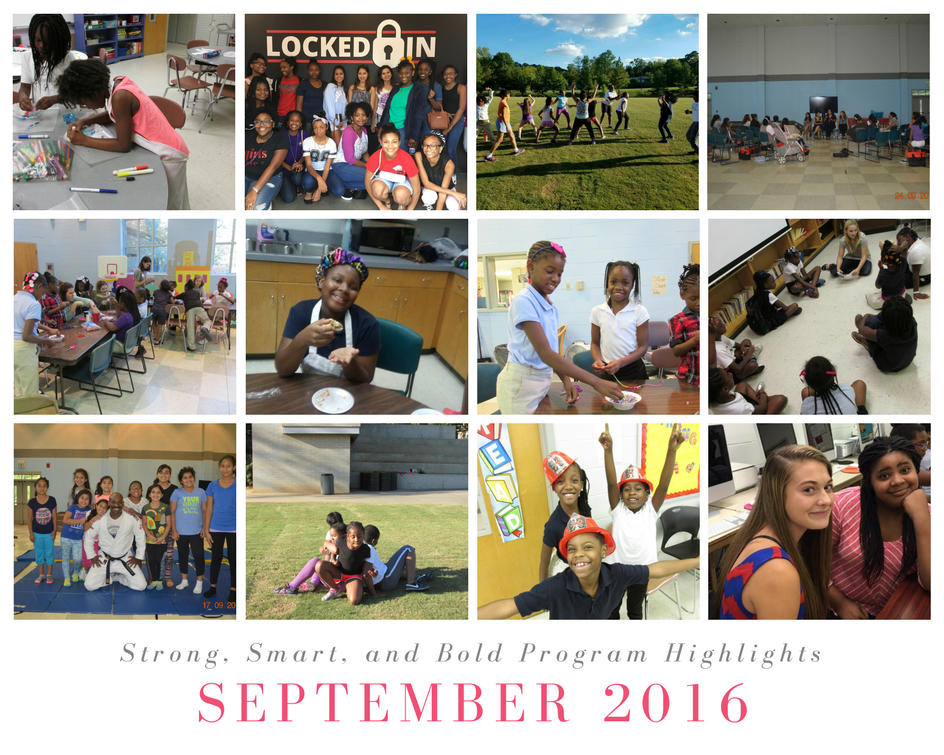 September has been an educational, fun filled month at Girls Inc. of Central Alabama. Here are some of the highlights:
The Teen Leadership Program held its first meeting for the school year. The girls went to Locked In: Birmingham to work on their team building skills. Volunteer shout out to the Junior League of Birmingham volunteers with our Teen Leadership Program and we are so thankful to have them! To find out more about this go to:http://www.girlsinccentral-al.org/news-events/blog.html/article/2016/09/21/curious-about-the-teen-leadership-program- or contact Crystalyn York at (205)403-5244, cyork@girlsinccentral-al.org.
The Eureka! STEM Program held its first school year meeting. The rookies and vets met at the Crestwood Center to learn about system components. They predominantly looked at the use and importance of an assembly line. Then they put what they learned into action with a hands on activity.
The Latina Leadership Initiative held two functions this month, both for middle school girls. The first was a Safety in Action Workshop were the girls learned self-defense. The Safety in Action Workshops will be held throughout the rest of this semester, once a month. The second activity was the Latina Girls Lead Seminar were both student and parent workshops took place. The girls attending learned about Internet Safety, Time Management, and Self-Esteem. At the end of the seminar there was a panel of four Professional Hispanic Women talking about their transition to America and their careers. For more information about the Latina Leadership Initiative contact Alejandra Ocampo at (205)599-5682 or aocampo@girlsinccentral-al.org.
The Crestwood Center has a new director! We are so excited to welcome Byanca Underwood as the new Center Director. If you have not met her yet, do so the next time you are at the Crestwood Center. We are really excited to see her join our team!
This month the Crestwood Center has been active in numerous activities; from sports, art, cooking, SMART (Science, Math, And other Relevant Technology), to Fun Friday activities. Our girls have been able to do it all! In addition to the Girls Inc. classes the girls were able to craft with Samford Panhellenic volunteers, participate in Girls on the Run, and learn about National Preparedness.
September had a lot going on and October will be just as exciting, so stay tuned for all the events and activities going on at Girls Inc. of Central Alabama!