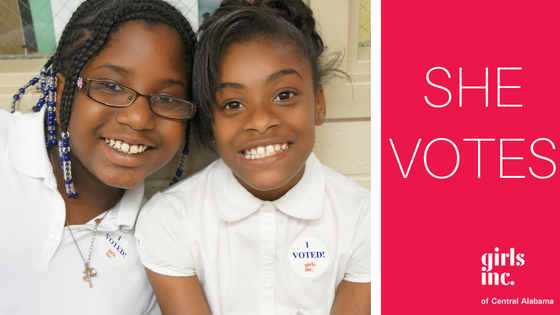 As this year's elections draw near, Girls Inc. of Central Alabama, an organization that inspires girls to be strong, smart, and bold, presents Girls Inc. She Votes, a nonpartisan, nationwide initiative that promotes civic engagement by teaching girls that they can have an impact on public policy through voting and running for office.
Through She Votes, Girls Inc. of Central Alabama will provide a behind-the-scenes look at what it takes to run for political office and serve as an elected official, and explain how important it is for girls to vote. Girls participate in activities that introduce them to voting, public speaking, fundraising, and campaign advertising. A special highlight of the program will be a mock presidential election, held one week before the general election, for girls across the entire Girls Inc. network. In addition, Girls Inc. of Central Alabama will also be having a Girls Inc. Council vote and a winter break field trip vote. The Girls Inc. Council will be made up of a President, Secretary, and Treasurer— elected by their peers to be a voice for the girls. The leadership positions are open to all girls who submit an application by Monday, October 24th.
According to the Center for American Women and Politics, fewer than 45 percent of eligible women aged 18- 24 voted in the 2012 election. Women currently make up 19 percent of the U.S. Congress and 24 percent of state legislatures; there are only six female Governors. Women of color are further under-represented as elected officials.
Girls Inc. started the She Votes initiative during the 2004 presidential elections. Since then, more than 10,000 Girls Inc. girls across the U.S. have participated in mock elections and civic-engagement activities. These activities include volunteering at voter registration drives, viewing and discussing televised debates, participating in get-out-the-vote initiatives, and creating political cartoons. Frequently, public officials and candidates will visit affiliates who participate in She Votes.
Girls Inc. of Central Alabama does not endorse candidates for elected office.