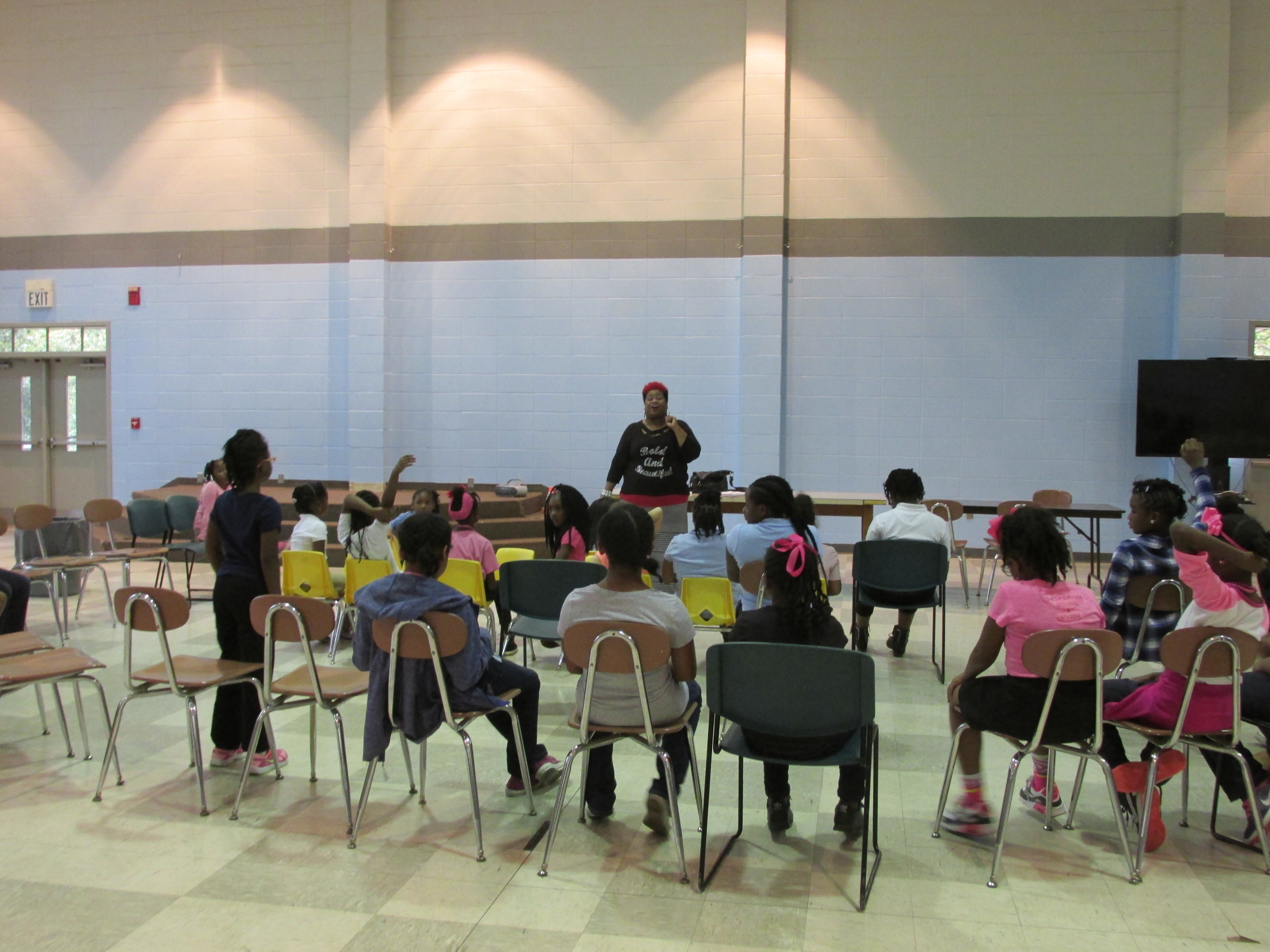 Bullying Prevention Week activities included:
• On Monday, Oct. 17th, we kicked off the week explaining activities, there were cookies & punch as the girls and their parents left for the day.
• On Tuesday, Wednesday, and Thursday, the girls listened to our bullying prevention curriculum taught by Yolanda Crenshaw, Girls Inc. Contract Educator.
• On Friday, we had a Bullying Prevention Fun Day where the girls participated in a hula hoop contest, Basketball Shoot-Out, Chalk Art Contest, and a Sack Race. Girls received prizes for showing good sportsmanship and teamwork! Games were designed to promote fun and for girls to work together, not against, each other!
• Selected Girls Inc. Girls spoke out against Bullying - a number of girls were selected to do a video on their thoughts about bullying and what they will do to stop bullying at their schools and with each other. This video can be found on our Facebook page
Did you know…
Bullying directly affects students' ability to learn.
• According to the Center for Disease Control, students who are bullied are more likely to experience low self-esteem and isolation, perform poorly in school, have few friends in school, have a negative view of school, experience physical symptoms (such as headaches, stomachaches, or problems sleeping), and to experience mental health issues (such as depression, suicidal thoughts, and anxiety (Center for Disease Control, Bullying Surveillance Among Youths, 2014).
• Bullying affects witnesses as well as targets. Witnesses are more likely to use tobacco, alcohol, or other drugs; have increased mental health problems; and miss or skip school (StopBullying.gov).
Bystanders can be powerful!
• Students have a unique power to prevent bullying. More than half of bullying situations (57 percent) stop when a peer intervenes on behalf of the student being bullied (Youth Voice Project).
Bullying is not a "rite of passage" but a serious threat to student safety and well-being.
• Some say bullying makes children tougher and is not a serious problem, but the reality is that students who are bullied are more likely to be depressed and/or suicidal.
• Many students feel that the adults in their lives – parents, teachers, community members – are failing to adequately address this issue.
• Areas of concern include:
• Education – School avoidance, loss of academic achievement and increase in dropout rates
• Health – Physical and emotional including stomachaches, headaches, sleeping issues, depression, fear or anxiety
• Safety – Harm to self and others, including self-isolation, increased aggression, alienation, and retaliation.
Anyone can bully, and anyone can be bullied.
• Students can have multiple roles: they can be the one subjected to bullying and the one who bullies.
• ANY student can exhibit bullying behavior – male or female, popular or un popular, students with good grades, and those who struggle academically.
Bullying isn't about resolving conflict; bullying is about control.
• In conflict, children self-monitor their behavior and generally stop when they realize they are hurting someone. But, when it's bullying, children continue their behavior when they realize it is hurting someone, and are satisfied by a feeling of power and control.
Bullying statistics
• One out of every four students (22%) report being bullied during the school year. (National Center for Educational Statistics, 2015)
• 64 percent of children who were bullied did not report it; only 36 percent reported the bullying. (Petrosina, Guckenburg, DeVoe, and Hanson, 2010)
• More than half of bullying situations (57 percent) stops when a peer intervenes on behalf of the student being bullied. (Hawkins, Pepler, and Craig, 2001)
• The reasons for being bullied reported most often by students were looks (55%), body shape (37%),
and race (16%). (Davis and Nixon, 2010)
• Students who experience bullying are at increased risk for poor school adjustment, sleep difficulties, anxiety, and depression. (Center for Disease Control, 2015)
Bullying & Suicide
• Students who bully others, are bullied, or witness bullying are more likely to report high levels of suicide-related behavior than students who report no involvement in bullying. (Center for Disease Control, 2014)
Bullying Prevention Resources for Teen Girls & Tweens
Girls Inc. Presents: You're Amazing! A No-Pressure Guide to Being Your Best Self
by Claire Mysko
This Girls Inc. book empowers girls to celebrate what makes them unique as they challenge the pressure to be perfect.
Girls Inc. Online
www.girlsinc-online.org
This is the Girls Inc. Website for Girls! Girls get a lot of negative messages telling them they can't do things or should look and behave in certain ways just because they're girls. Girls Inc. is there to remind girls that this is just…well, nonsense. Girls Inc. knows girls can do anything and become anything they try. Girls Inc. Online is one way that Girls Inc. shows girls how to discover and get excited about their potential. Create a profile and show what strong, smart, and bold. Set and share goals about the amazing things girls and women have accomplished.
Re-Think App: Stop Cyberbullying before it starts!
Want to stop Cyberbullying? Get the Re-Think App, the first ever solution to prevent cyberbullying before it starts! How does it work? When a teen tries to post a hurtful or offensive message on social media, Re-Think uses its technology to determine whether or not it's offensive and gives the teen a second chance to think about their decision.
https://play.google.com/store/apps/details?id=com.rethink.app.rethinkkeyboard&hl=en
https://itunes.apple.com/us/app/rethink-stop-cyberbullying/id1035161775?mt=8
Speak Up against Cyberbullying! Get the "I Am a Witness" App
You've seen it: someone leaves a rude comment on someone's page or video. Use the "I Witness" Emoji to show bullying is NOT OKAY! Learn more about the emoji and what you can do to end bullying at IWitnessBullying.org. http://iwitnessbullying.org/ #IAmAWitness
https://www.youtube.com/watch?v=8-ikzSNkwvg
Bullying Prevention Resources for Parents
What Parents Should Know about Bullying
http://www.pacer.org/bullying/resources/parents/
Bullying can be an isolating experience — not just for the kids involved — but for their parents, too. Fortunately, there is help. This guide offers a comprehensive overview for parents to learn what they can do to address and prevent bullying.
Living in Live Time
http://newyork.cbslocal.com/guide/1010-wins-special-report-living-in-live-time/
We live in a society that strives for "likes," but when it comes to the self-esteem of today's young women, it seems it's hardest for them to "like" themselves. New York City's local CBS station featured a special report "Living in Live Time" to bring awareness to prevent bullying through social media.
Cyberbullying: What Parents Can Do to Protect Their Children
http://www.pacer.org/bullying/resources/parents/
Cyberbullying Research Center
cyberbullying.org
Numerous free resources for parents to use to help their kids make wise decisions online.
NetLingo: The Internet Dictionary
www.netlingo.com
Center for Parent & Youth Understanding
http://www.cpyu.org/
Helping parents, youth workers, educators, pastors and others understand and reach today's youth culture
Digital Kids Initiative (Center for Parent & Youth Understanding)
http://www.digitalkidsinitiative.com/
Providing information and resources for parents, youth workers and educators to help kids navigate their digital world. They have seminars, downloads, and research on what's happening with our kids online.
Netsmartz
http://es.netsmartz.org/Parents
Information and great advice for parents on gaming, sexting, cell phones, predators, and more.
Navigating today's social media world
• iKeepSafe: Parents Guide To Facebook
• StaySafeOnline.org's Parent Resources
• HelpGuide.org's Dealing with Cyberbullying
• Stomp Out Bullying's Tip Sheet
• WebMD: What Parents Must Know About Social Media
• Common Sense Media's FAQ About Social Media
• KidPower's How To Prevent And Stop Cyberbullying
• Body-Shaming: What Is It & Why Do We Do It?