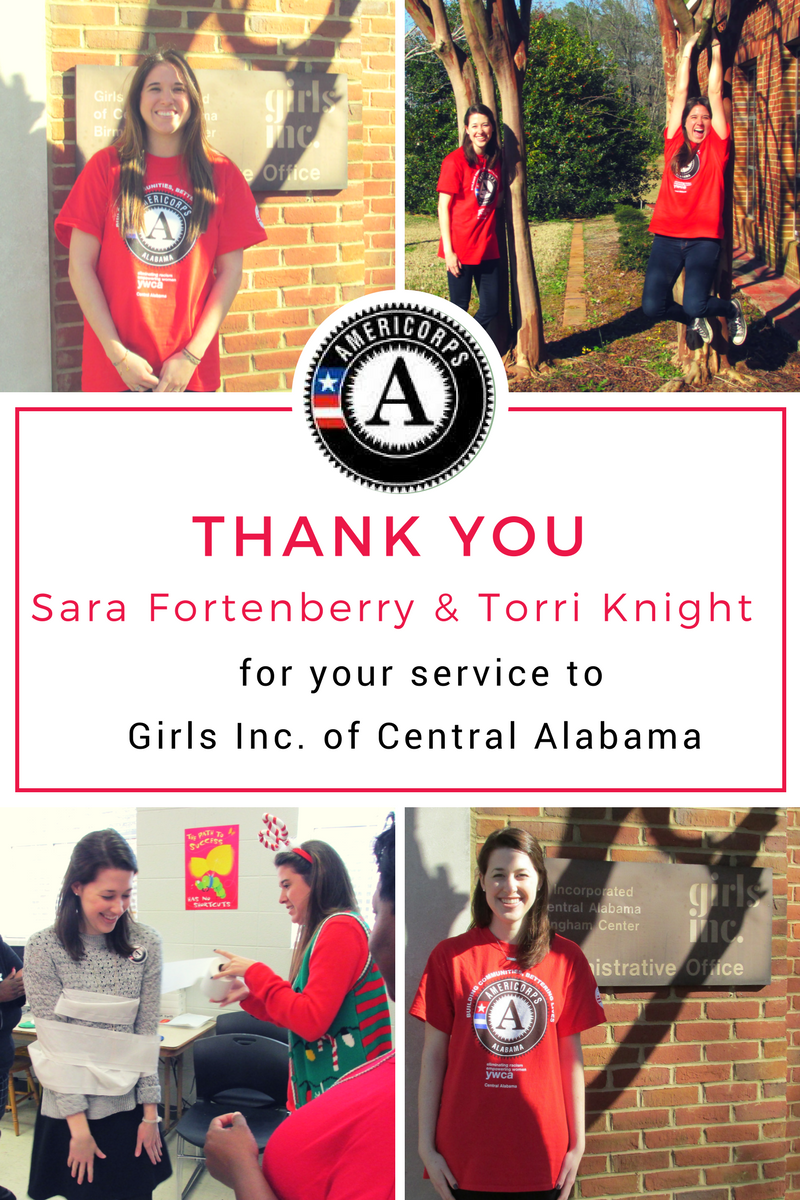 Here is a little bit about our AmeriCorps members:
Sara Fortenberry (pictured bottom right)
My name is Sara Fortenberry and I'm originally from Atlanta, Georgia but moved to Birmingham to attend Samford University. I started out as a nursing major, but realized while doing clinicals that was not the right fit for me. I decided to change my major to Spanish with a minor in Biology. While the change required that I stay a while longer, it gave me the opportunity to discover what I really enjoyed. I was also able to teach language conversation labs and develop my teaching skills. After I graduated last May I was not sure if I wanted to go directly into graduate school, but I knew I wanted to do something intentional and useful with my time. After hearing about AmeriCorps from a career counselor at Samford I quickly decided it was something I wanted to be a part of because of my passion for service. I wanted to be in a place where I could serve intentionally as well as be able to gain valuable experience and learn from the people around me.
Serving as an AmeriCoprs member at Girls Inc. has definitely exceeded my expectations. I was so excited to be placed at Girls Inc. because of their mission to inspire all girls to be strong, smart and bold, and I have already learned so much from the staff as well as the girls whose enthusiasm and creativity inspire me every day. I have been serving as the STEM Program Assistant, facilitating SMART classes and helping with the Eureka! Program. I love getting to interact with the girls, seeing them discover new career options and get excited about science, math and technology. It is a great feeling to know that I am playing a part in empowering young girls to dream big, set goals and achieve them, which is reinforced in all aspects of Girls Inc., from the programs to the daily interactions. I am so grateful to get to serve the girls at Girls Inc. alongside of the wonderful staff who love what they do and model the strong, smart, and bold mission.
Torri Knight (pictured top left)
I attended Auburn University and pursued a Bachelors degree in Human Development and Family Studies with a concentration in Middle Childhood/Adolescence. After leaving Auburn, I moved to Atlanta, Georgia and was a co-teacher for a group of 4th graders. Something was missing; throughout college, I participated in a couple of internships within non-profits and realized that was where my heart and passion was. I moved to Birmingham in June to experience a new, smaller city and to also pursue a job in the non-profit sector. I heard about AmeriCorps through a friend and decided to give it a try. Joining AmeriCorps has definitely been one of the best decisions I have made thus far.
At Girls Inc., I have found what I have been looking for. I am surrounded by strong women who strive, every day, to make the lives of children better. I am fulfilling my passion to motivate young people to dream big, love themselves, and chase any dreams they may have. There is such a strong sense of community at Girls Inc. The people here are all striving for the same goal, to inspire young girls to be strong, smart, and bold and all of the staff are succeeding in this mission in such a profound way. I am insanely proud and grateful to be a part of such an amazing agency that works so incredibly hard to reach young girls within the city of Birmingham. Girls Inc. provides young girls with a strong support system, filled with many different experiences that will help mold and shape them into the women they will one day become.