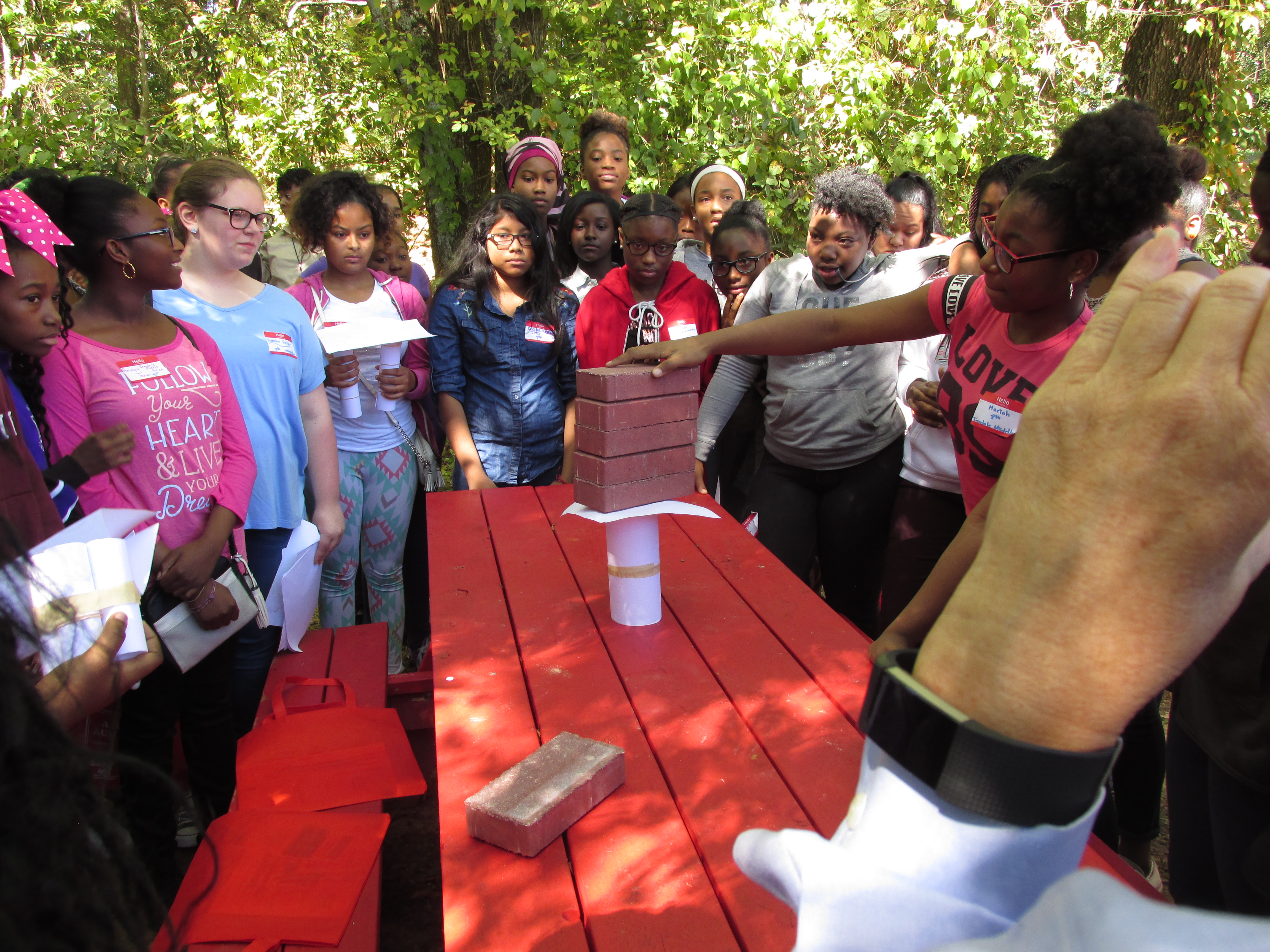 On Wednesday, October 4th, Girls Inc. of Central Alabama, in partnership with Southern Automotive Women's Forum (SAWF), hosted the first All Girls Auto Know event in Alabama.
The SAWF is a non-profit professional organization that seeks to promote education and advancement of women in the automotive industry – they created and have led All Girls Auto Know over the past few years, with much success, in South Carolina. All Girls Auto Know is an event to expose girls to the world of STEM and the automotive industry.
We had 160, 7th and 8th grade girls from three local middle schools – Smith, Irondale, and Minor – in attendance. Throughout the entire day, the girls got to hear about the many different ways they could go into a STEM career within the automotive field.
As part of the welcome presentation, there were four college students who spoke on a panel about what led them to STEM, what types of high school classes helped them get where they are, and what their current STEM program looks like. We had three young ladies from the University of Alabama at Birmingham's Engineering Program (two biomedical and one mechanical) and one young lady, a SAWF scholarship recipient, who is getting her Associates Degree in Welding at Central Alabama Community College.
After the panel, the girls broke into two groups in order to participate in the remaining activities. Outside, we had an hour long hands on activity that led the girls to critically think. In groups of six, the girls had to figure out how to balance a brick for one minute with paper, masking tape, and rubber bands. Once they were successful, the girls were able to test their prototype with multiple bricks. One group was even able to balance seven bricks for an entire minute! Inside, we had an hour long expo where the girls were able to meet and ask questions with multiple automotive vendors, suppliers, and training programs.
Overall, the entire event was a hit. Numerous girls left Girls Inc. discussing what they enjoyed most and what they were eager to learn more about! The All Girls Auto Know event could not have been such an incredible experience without the panelist, the expo participants from Lawson State Community College, The University of Alabama's Productivity Center, Honda Manufacturing of Alabama, Hyundai Motor Manufacturing Alabama, Toyota Motor Manufacturing Alabama, Autocar Trucks, AAMA and Southern Automotive Alliance magazine, KAMTEK Inc., and the Alabama Technology Network. We are so glad that we were able to partner with SAWF to host All Girls Auto Know, and we cannot wait to have this event again next year!