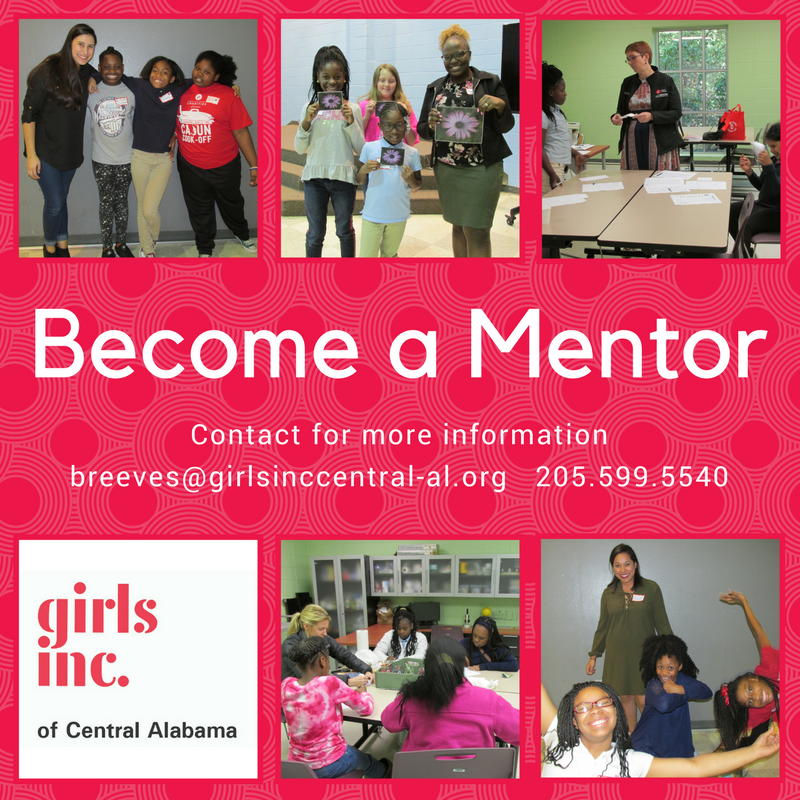 Girls Inc. of Central Alabama is in our second year of our Mentoring Program: Bold Futures, and we are currently looking for mentors. Mentors play a key role in the development of a child. It is because of mentors that many children have hope and can dream about the future. Please consider becoming a mentor for the girls!
Girls Inc. Bold Futures Mentoring Program:
Goal – To develop a supportive relationship with a group of 4-5 girls (mentees) to promote and improve academic achievement, social skills, healthy behaviors, goal setting and career awareness.
• Must be at least 18 years of age.
• Must be dependable and consistent in meeting time commitments.
• Must complete an application, background check and mentor training.
• Must agree to mentor 4-5 girls at one time (Note: group mentoring project)
• Mentors and Mentees must complete 48 hours of contact by August 2018. (Weekly contact is mandatory. Suggested 1-2 hours per week.)
• All mentoring activities must take place during Girls Inc. site location program hours – weekday afternoon(s). (Weekend activities will be scheduled by Program Coordinator only if needed.)
• All mentoring will be done by the assigned volunteer mentor.
• Must submit monthly reports to verify mentoring hours and any areas of concern.
• Girls and mentors will be matched according to location, age, interest, and Bold Futures Mentoring Project Objectives.
We have ten confirmed sites: Girls Inc. of Central Alabama – Crestwood Center, New Rising Star Afterschool Program, the YWCA Downtown, the YW Family Resource Center, Tarrant Elementary, the Northeast YMCA, A.G. Gaston Boys and Girls Club, Brookside Boys and Girls Club, and the Hueytown Boys and Girls Club.
If you are interested and would like a mentor application please email Bethany Reeves at breeves@girlsinccentral-al.org. If you have any questions or if you would like to discuss the mentoring program feel free to send an email or give us a call at 205-599-5540.