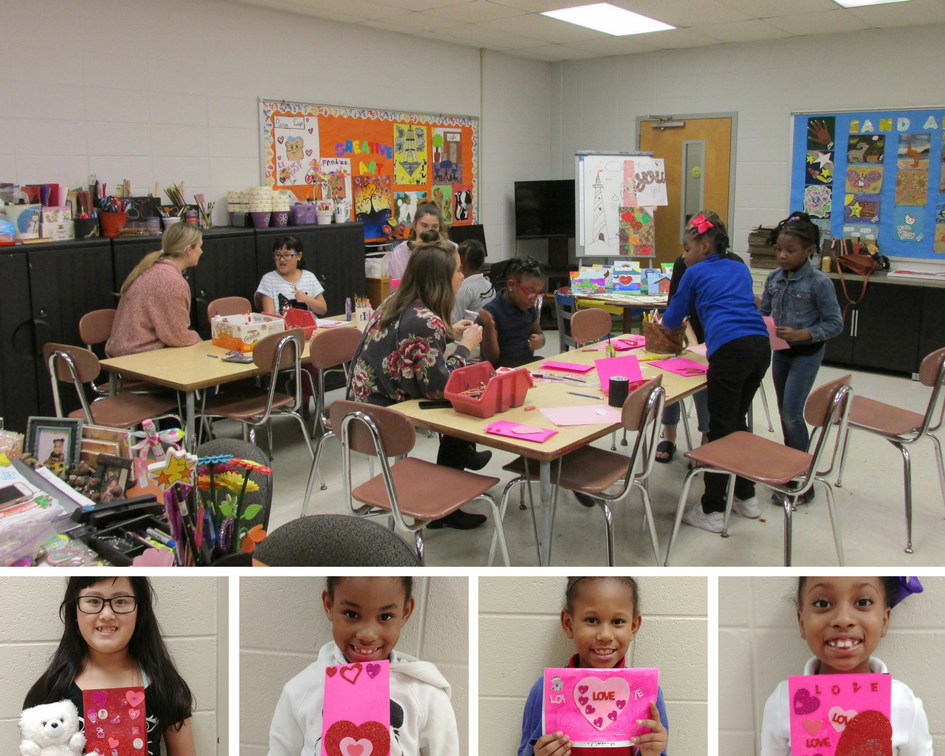 Friday's at the Crestwood Center are FUN DAYS! Throughout the week (Monday-Thursday) our girls participate in Girls Inc. program classes where they get to learn and experience topics that are age appropriate and hands on. But on Fridays we take it to the next level. We like to bring in volunteer groups, both corporate and community, to come work with and inspire our girls.
This past Friday we had a full house! Pictured above are store associates from Free People, a clothing store that nationally partners with Girls Inc. These women came from the Birmingham store, located at the Summit, and they spent their afternoon making Valentine's day cards with our 1st-3rd graders. Our girls had a blast and so did the volunteers! You can see some of the finished cards in the picture above!
On that same day we had two other volunteer activities going on – we had a group from the Alabama Master Gardeners working with our 4th-6th graders and we had a yoga instructor leading a session with our 7th-8th graders. At Girls Inc. of Central Alabama, we strive to introduce our girls to new experiences, and to engaging fun activities. Do you have a special skill set, a talent or a passion that you would like to share with the girls? Would yourself or a group that you are a part of want to spend a Friday in the Crestwood Center? If so please contact our Volunteer Coordinator to set something up! We LOVE having new groups come in to introduce something different to our girls!