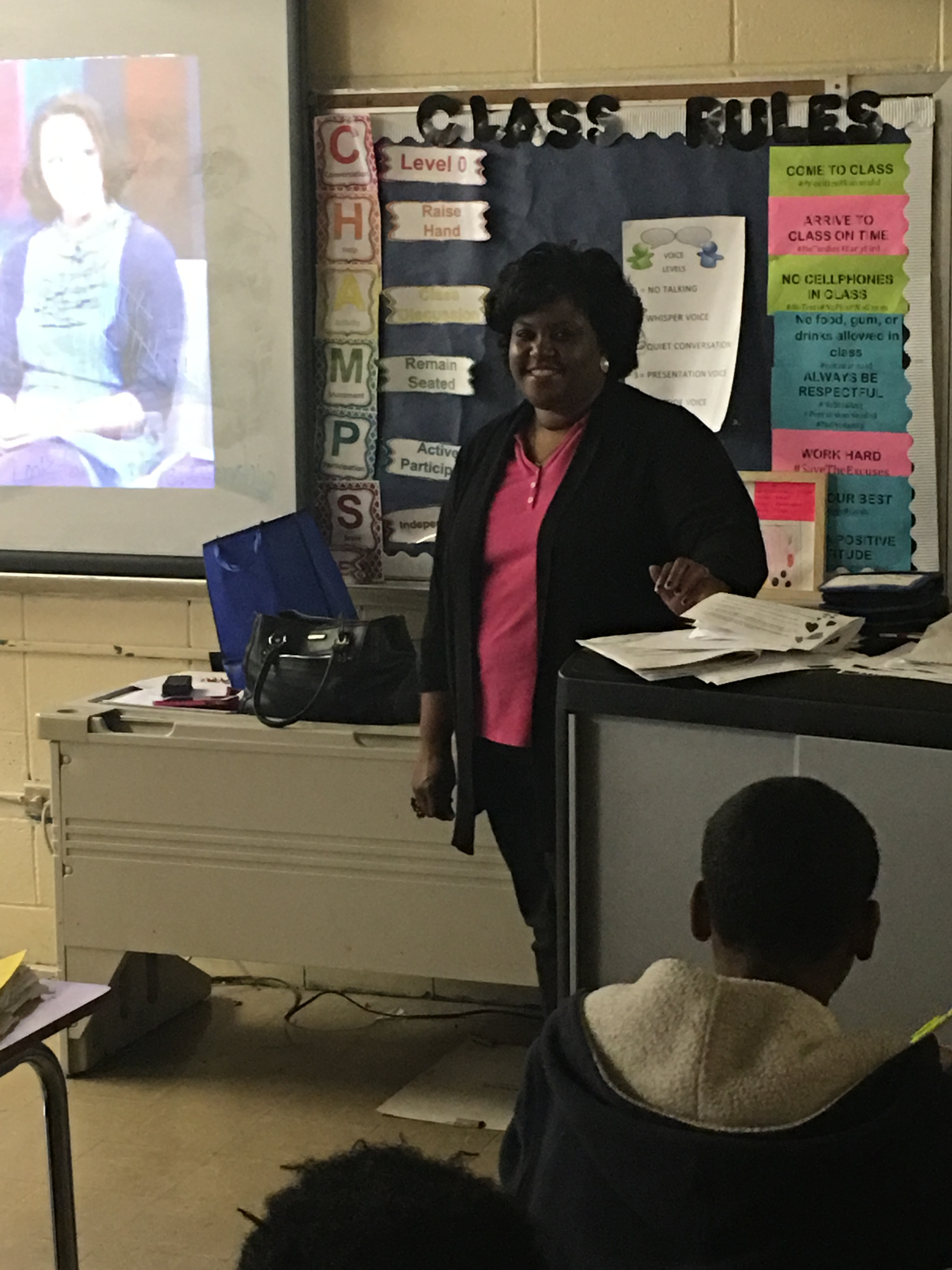 It is essential that we address Teen Dating Violence and what better time to do so then February as it is Teen Dating Violence Awareness month. Girls Inc. of Central Alabama strives to address this address and works to educate girls on the topic at hand. Our Life Skills Instructor, Julean Kirkpatrick (pictured above), has spent much of February going into schools in order to teach the Girls Inc. "Love is not Abuse" curriculum. This is taught to both girls and boys in middle and high schools. We want to make sure that parents and other family members are able to assist teenagers on this topic, below you will find tips and resources to aid your Teen Dating Violence conversation.
BEFORE THE CONVERSATION
1. Get educated on Teen Dating Violence. Know the facts about teen dating abuse so that you will know how to talk to your teen.
Great resources for teen dating violence information can be found on the following websites:
https://www.breakthecycle.org/sites/default/files/hanbook_-_parents_of_teen_0.pdf
https://health.usnews.com/wellness/for-parents/articles/2017-02-21/teen-dating-violence-what-parents-and-teens-should-know
http://www.loveisrespect.org/pdf/Help_Your_Child.pdf
http://www.loveisrespect.org/pdf/Texting_And_Sexting.pdf
http://www.loveisrespect.org/pdf/What_Is_Digital_Abuse.pdf
2. Be ready to talk whenever it happens
You never know when your child may want to talk. Be available to listen whenever they choose to have the conversation. Big ideas often begin as little thoughts slipped into the middle of a conversation about something else. Your child may raise ideas that are disturbing to; be prepared to respond without criticizing them.
3. Create an open environment to talk
Small things matter when creating trust with your child and opening up a potential sensitive conversation. For example, the perception that others may hear your discussion can turn your child off from wanting to talk. Think of times when the two of you are alone, maybe talking over lunch on a weekend, on the way to the store, or even while watching television. These can all be opportune times to bring up the conversation in a private relaxed setting.
Sources: Break the Cycle.org and Love Is Respect.org
CONVERSATION STARTERS
•What does dating mean to you?
•What are some things that you like about your friends? What about how they treat you?
•What are some things you don't like about how your friends act or how they treat you?
•Let's say you are seeing someone. How would you like someone you are hanging out with to treat you?
•Choose one couple you know of who you think has a good relationship and one couple who you think has an unhealthy relationship. Why did you pick these couples?
•Do you think there is a good way to argue? Do you think there are unfair ways to argue? Have you ever argued unfairly? What could you have done to make it a fair argument?
•What does it mean to stand up for yourself? When you stand up for yourself, how does it make you feel? Do you think you are being strong, bossy or pushy? Why?
•What should you do if someone you're dating threatens you? What if someone you are dating tells you to keep quiet and not tell anyone, even though you know it is wrong?
Sources: Break the Cycle.org and Love Is Respect.org