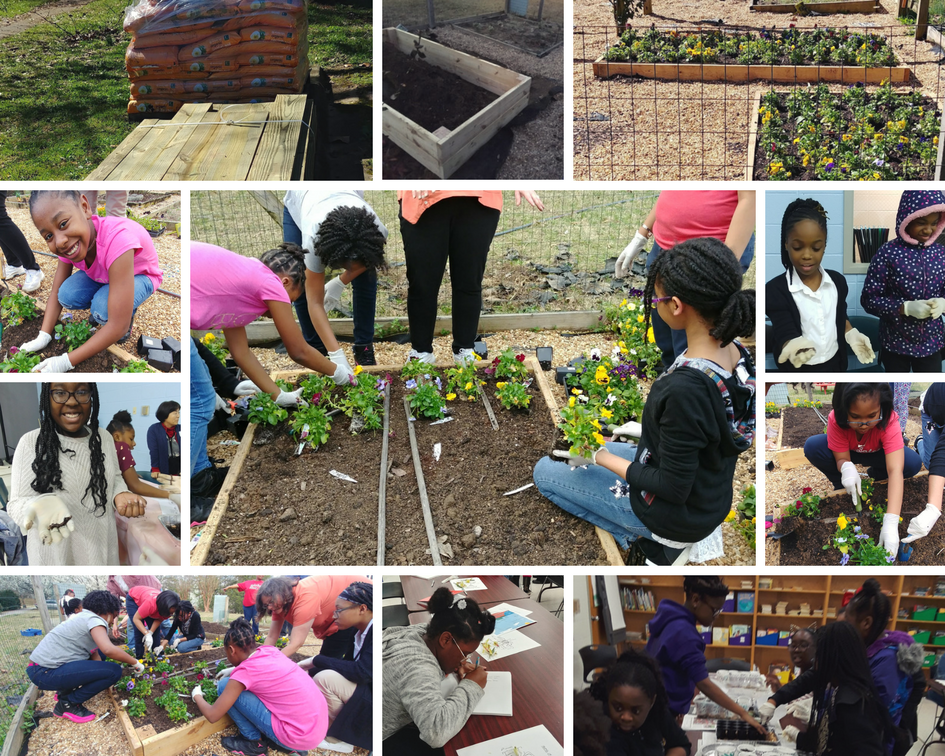 Our garden has seen a lot of love this year. We were fortunate enough to have Blue Cross and Blue Shield of Alabama come in during the summer to plant produce in the garden as well as spruce up our courtyard area. As the seasons change, new produce must be planted and a group of Alabama Master Gardener students have stepped up to help us transition the beds.
This group of Master Gardeners have developed a 9-week curriculum and are teaching it to the 4th-6th grade girls in the Crestwood Center. The girls have gotten their hands dirty while learning about soil samples and worm composting. They have also learned about the anatomy of a flower, and even got to press a flower to keep. Thankfully, last Friday we experienced a sunny day in Birmingham which allowed our girls to take their first trip of 2018 into the garden. The Master Gardeners were able to get pansy donations from Leaf and Petal, with the donations, our girls were able to plant to beds of flowers! In addition, they planted two pots of flowers by the Crestwood Center entranceway and the girls were even able to take flowers to plant at home.
The Master Gardeners are working hard to make our garden the best it can be. They are refiguring the beds to be better proportioned and of newer wood. Yesterday we received a lumber and soil donation from the Lowes in Trussville; with this donation we will be able to have all new beds!
Our garden club will continue with the Master Gardeners through April 2nd, we will continue to post updates on our social media to keep everyone up to date on the progress!